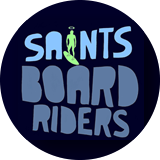 The Saints Board Riders was started in 2006 with just ten children, by a group of volunteers and head up by local surf instructor John Navin. The club has now grown up to 150 members most of which are children of the Saturday morning kids club and each member is a full member of Surfing GB. The club is also affiliated with Surfing GB. The club is now looking forward to gaining more adult members. The club is very inclusive and is run to help and support people young and old to get into the surfing.
The 'Nemo' group
Its Saturday kids Club is run by volunteers, RLNI Lifeguards and St Ives Surf School, a Surfing GB and International Surf Association accredited Surf School, whose coaches all give up their time for free. All money taken is put back into the club and used to buy more surf boards and other equipment for the club. Lots of local businesses have supported the club and helped out over the past few years, including all the local surf shops and St Ives Surf School.
"Surfing GB is passionate about supporting surf clubs, they really are the grass roots of British Surfing and is an area for further development across the UK, with Saints Boardriders being an excellent demonstration of how local community and passion for surfing can create positive experiences and education in all ages and abilities" says Nick Rees of Surfing GB.
The junior members are split into groups according to their age and skill level. The biggest groups being the 'Nemos' and the 'Dorys' with the age range being from two years old to seven years old. The junior members follow the Surfing GB Junior Surf Scheme this broken down into levels in which they must perform certain surf skills and cover areas of safety. The top group has video coaching led by Simon Trebilcock a sponsored surfer and surf coach.
In this picture the children are practising making an emergency phone call to the coast guard with help from the James Symons Head Lifeguard for the RLNI at Porthmeor beach.
Some of the children have now gone on to become surf coaches who help with the club and work at St Ives Surf School. Also several of the members young and old volunteer their time to help with The Wave Project and other voluntary events held at Porthmeor.
The club holds an annual contest which is based around fun for the lower groups who perform fun tricks on swell boards. The top two groups have a full surf competition with several rounds based on surfing manoeuvres, performed with speed, power and flow. This years competition is on the 12th of September at Porthmeor beach.

Packed & posted! 79 @calypsodrinks #JuniorSurferScheme reward packs sent to the Juniors of St.Ives @saintsboardriders! well done grommies!